Without flash we have three ways to match the camera to the available light, with total flash shutter speed is replaced with flash power. But were we use flash and ambient light that's where I struggle.

I have three flash units. One built into camera always admits a pre-flash so can't be used with flash fired slave and the hot shoe flash is only part dedicated ready light works in camera and camera detects there is a flash but flash intensity is controlled by an eye built into flash rather than through the lens.

I have five power settings one being full power but recharge time becomes rather long and one motor drive and power is very low, so in the main I use one of the other three settings which are colour coded and there is a built in slide rule to match ISO to aperture which also gives me distance limits for the three zoom settings of the flash gun.

For fill in flash does the aperture needs to be set smaller than shown on the slide rule so without the ambient light it would be dark or does the sensor on the flash gun auto adjust for ambient light? Can't see how it would adjust for ambient light as it does not know what speed has been selected.

Clearly the speed except with special flash guns can't exceed the point where shutter starts to close before it is fully open which will vary from camera to camera with mine 1/180 second. So with a 28mm prime lens I have between 1/20 and 1/180 to work with hand held. However ISO is also a tool in working out how much is flash illuminated and how much is ambient light illuminated this is where I get stuck I can't get my head around how to set to get desired effect.

Moving to in-built flash we have a completely different set of parameters. The flash has flash compensation and up to 2 EV can be adjusted. Guide numbers for flash guns vary with built in 11, and hot shoe having three figures depending on zoom of 66, 80, 90 but for wedding with wide angle lens 66 would be the one used so clearly the hot shoe flash has far more power than built it.

Clearly the hot shoe flash especially if also using the flash triggered flash to supplement will have far more power and range than built in. However also the batteries, even using 2500 mhA, will not last that long. The camera I have three batteries for so even with flash should not be a problem.

Hear talking about my Pentax K10D also with be using Nikon D7000 with two batteries here with a guide number of 12/39 one in meter other in feet which of course means one asks the question is the Pentax in meter or feet. So maybe guide number really 20.

However the whole idea of taking photos for a wedding really stresses me out. I really would not care how good or bad another photographer was I would love to have a second person taking the photos I would be willing to pay all expenses if anyone wants to give it a go.

But this fill in flash is really bugging me I really have no idea. So any advice welcome.

I have been experimenting.
Both pictures taken with camera in manual mode and a LED spot light shinning from my right both F4 both ISO400 top at 1/8 second bottom at 1/30 second other than shutter speed all remained same for both photos.
To me clearly once one is using built in flash there is no such thing as manual. The flash auto exposes the image however I could have maybe reduced the flash slightly to have darkened the light side to same as other image however could also do in software was careful to have both images selected while cropping and producing Jpeg from RAW so they could be compared.
OK the one taken at 1/30 second is better also did one at 1/180 second but the difference was very little.
Round two is try with hot shoe flash what I want is to be able to predict the outcome at the moment I can't it's all trial and error.
The hot shoe flash worked very like the built in with flash gun doing most of the work. Manual lens using between f2 and f8 with flash gun set at f2 only when I tried using second flash were there any problems. Second flash seems to work best pointing at the ceiling shadows looked natural and non were harsh.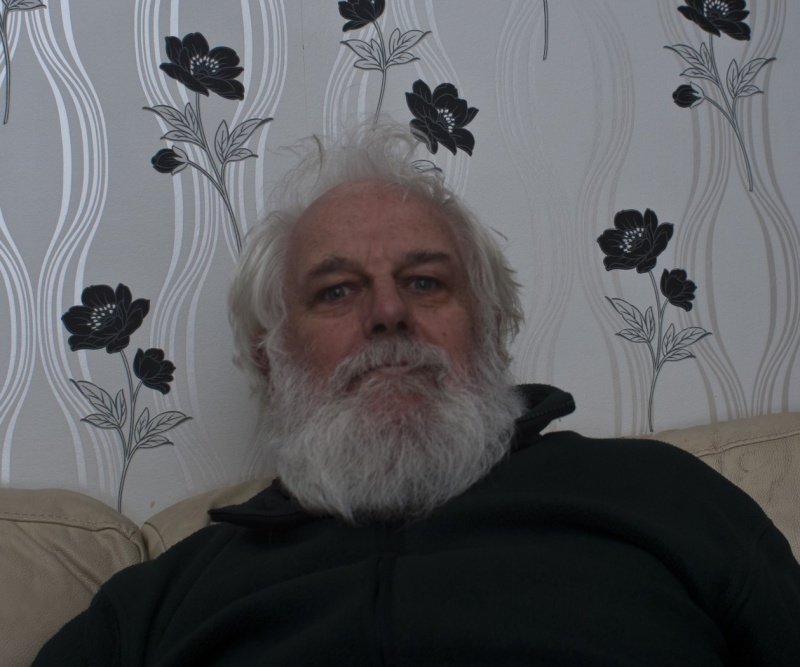 Both flash guns aimed at ceiling lens set to f4 shutter 1/180 second ISO 100 curtains closed with all experiments want to emulate a dark venue with LED lights so see how to handle. Last was a little on bright side but not burnt out so could reduce a little in software. Now case of sit back and see comments.
My humble thoughts. I don't know anything about Pentax flash systems, but your D7000 has a sync speed of 1/250, which gives you a bit more scope if there is plenty of ambient light. I also enjoy using old manual flashguns with my Nikon bodies, specifically 3 x Nissin 360TW for such as macro work (quite powerful, low trigger voltage, really cheap to buy used). However, I've got plenty of time to test, adjust, move flashes around as appropriate and take a series of photos to achieve the effect I'm looking for. In a wedding scenario, I don't think you will have enough time to be trying multiple exposures without holding up proceedings. Doing everything in manual isn't impossible but likely to be an exercise of considerable frustration. I suggest you will need to obtain or borrow a dedicated TTL flash to be able to have more successful exposures. The only TTL flash I have is the SB400 which I think lacks the power for wedding use, but the SB600 or above would be fine if you use the D7000. With regard to balancing flash with ambient light, for a given flash power and aperture, the faster the shutter speed, the more the flash influences the final picture because ambient light capture will reduce with quicker shutter speeds. The flash of course has a much shorter time duration than the sync speed and isn't influenced by the shutter speed adjustment, so you could shoot in shutter priority with flash compensation and a TTL flash would work it all out. In bright light, say outside, the limitation is always going to be the Sync speed. My Nikon D40 will actually sync up to 1/1000 and using flash I can turn day into night and is the one reason I have kept it. Cranking up the ISO increases the effective power of the flash but also means that you approach the sync speed quickly. Do Wedding Photographers use ND filters to counter this I wonder?

Harvey Mutch




Posts

: 81


Join date

: 2012-10-03



Thank you as you say with weddings can't really hold up the proceeding while I play with flash gun so think I have to leave the second flash gun in the bag. With Nikon only have built in flash gun and really just a case of using the high ISO to compensate for weak flash.

With the Pentax the Vivitar 3500 is part dedicated it was designed for earlier Pentax so only one extra contact not two so camera knows flash is charged and I have to use fixed aperture and ISO to match the flash gun but still works quite powerful with zoom and angle head plus clip on defuser did have a range of colour filters but can't find them.

Down side is powered by two AA batteries and they don't last long, forget disposable take too long to recharger the capacitor has to be re-chargeable and at least 2000mAh NiMh with old NiCad 600mAh about 10 flashes per set of batteries.

However Nikon D7000 I have two batteries and Pentax K10D I have three batteries for so once Vivitar batteries go flat the built in flash should work OK for quite some time.

One final point is my son has now arranged for a professional photographer so even if I get it all wrong all is not lost. Not sure about an album and printing yet. Not so much of a problem but clearly will want to print some pictures and stick in a book.
Eric,
Last September we had our eldest daughters wedding. We employed a professional photographer from London. It was worth every penny, she had the right flash, diffusers and reflectors but she had the knack of controlling people. This is the most difficult task as some are easily upset. She had only one time to get it right and she did that with ease.
Lots of people had camera's with them and so there was 1000's of pictures taken on the day. Kate was sent lots of jpeg's and was able to make up a second album just of friends pictures as well as the professional album.
All in all it was a great day but best of all I did not have to worry about anything and I could just enjoy the day.
At the reception, I did take my camera and with my low light 50mm lens I got the best pictures of the cake, better than all the rest.
I let my son use my camera all day and he took some great pictures too.
Just enjoy your daughters wedding day and let others do the worrying.

Dave L.
Dave I completely agree with you. Be at the wedding as a guest. Enjoy taking some snaps as the opportunity arises. Be careful who you ask to do the wedding photography I have heard quite a few horror stories. Photographing a wedding is a very high stress job demands complete technical control and man management skills. There is only the one chance to get it right.

I avoid doing them even though a friend who is a wedding photographer has encouraged me to do them. If you want to explore the work of a great wedding photographer have a look at Jeff Anscough http://www.jeffascough.com.  In his wedding work he does not use flash!
---
Permissions in this forum:
You
cannot
reply to topics in this forum