I have over done this example to show the principle I would not normally go so far.
the first image as how the picture looked with just colour correction. Then two versions were made this one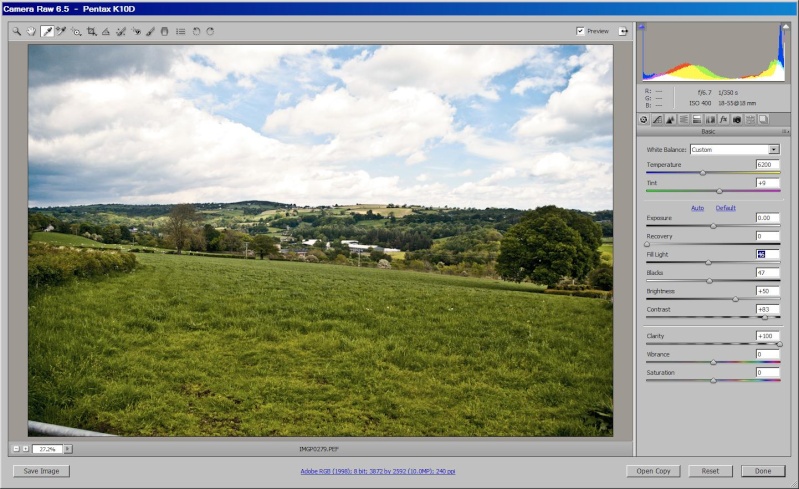 was adjusted for foreground and I use "Save Image..." button not open image then alter setting for sky
again use "Save Image..." then click cancel so no side car is generated on the original RAW image.
I use bridge
the load as layers means both will be loaded together no need to align images or to make back ground into a layer you end up with two layers. Using the quick selection tool on the sky is easy with a sky like this.
next is the trick if you like using Refine Edge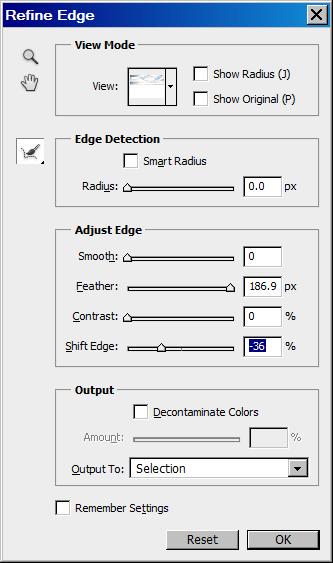 this second one shows how it blends the edge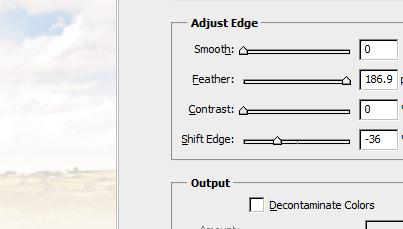 two main controls are feather and shift edge. Once this is done then simply click "Add layer Mask" if it works wrong way around like this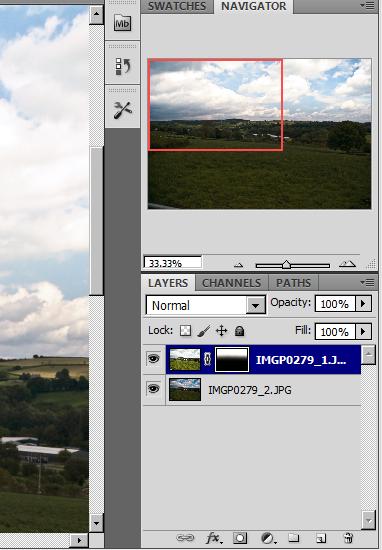 don't worry just drag mask to other image like this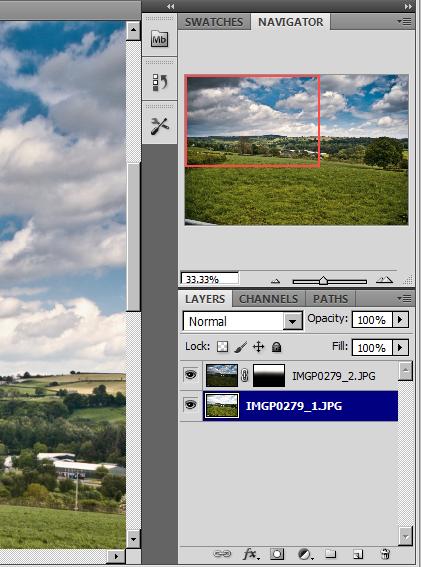 and drag images to swap order.
I know I have over done it with this image but want to show method rather than show off any photo. As you can see it does now capture the whole dynamic range that RAW had got and puts it into one image.
Thanks for the post Eric.


Harvey Mutch




Posts

: 81


Join date

: 2012-10-03



Thought I might add to the discussion showing what can be done with a difficult image using the current version of Lightroom. The picture had been exposed for the wonderful sky.
Here is the original.
Here is a screen shot showing the adjustments that were made. To bring up the foreground the shadows slider was pushed right and to increase the detail in the sky the highlights slider was pulled to the left. Then a grad was applied to bring more drama in to the sky. The controls for the grad are the upper ones in the screen shot. It was about increasing particularly upper and mid tone contrast in to the sky. The feathering of the grad was kept very soft.
And here is the final version.
Thank you David. I am told with Elements there is no graduated filter on the RAW conversion tool my version is too old to have any RAW conversion using version 6. However both CS4 and CS5 both have a graduated filter tool as you show with the RAW conversion tool.

Where there is a reasonably straight line between foreground and sky I think it works very well and much simpler method than the one I used.

Not sure as to Light Room but with CS4 and CS5 one can even cheat and add a tint making a scene like the one you show being easy to convert to sun rise or sun set.

Digital Photo mag even gave tools to show a sun beam as well although I think that would be going OTT.

I think the method I have shown can be done in Elements as will as Photoshop and I did try with Gimp not quite as easy but it did work.
Hi Eric, It is not until you get to Lightroom 4 (process version 2012) that the processing engine really improves particularly with the shadows adjustment. The earlier version tended to add a lot of rather nasty artefacts if it was pushed much. Similarly the highlights tool really does open up the light tones very well. If the grad goes and covers something unwanted I would use the local adjustment brush to correct the affected area. This picture worked quite easily without any local adjustments.

Lightroom has the same processing engine as ACR so adding colour effects, shifting white balance cross toning etc. are all possible. (my version is 5.6 which is equivalent to ACR 8.6)
I found problems using fill light with Camera Raw 6.5 although it increased the dynamic range and by reducing the exposure and using fill light you do get the range it produces a very grainy picture in the dark areas.
I do use fill light but more to hide the join between two images than as final result.
I reflect on what I was taught in college and now question the processes taught I was pulling my hair out when a arrived at the library only to find CS3 RAW would not open my Pentax RAW files and I had a really good RAW converter in my bag which I had never even thought of using at the time. My Camera.

It is our basic software tool yet I never even thought of the idea of making any post exposure alterations with the camera once exposed to me I needed a computer.

This does of course mean "Straight of of the camera" is now looked on in a different light the camera is a powerful computer in its own right.

Kevin has really opened my eyes with the beginners classes, there are at least two of us who have been taking pictures for a long time, but both of us have not really grasped the essence of picture taking. I can work out all the technical side, but as to deciding what makes a good picture that's some thing else.

There is a core of around 4 people who really help the beginners. Ken, Yourself (David), Kevin, and Michael there are others of course but for me these are the four who really help. I may not act on all you all say but I do listen.
Thanks Eric,

Yes the big improvement in ACR does not come until version 7.xx

Although we have been talking a lot about processing I think working at learning to see is worth the time and effort.

An exercise you might like to think about is to restrict yourself for say a couple of weeks just working with the one focal length say in the range FF equiv of 35 - 80 if you use a zoom tape the zoom mechanism to your chosen focal length . You may have been given this as an exercise at college if not it is really worth giving it a go. Don't worry too much about processing the image in any depth but get the pictures to a state you can see them and then examine each critically full screen or even better printed. What you are looking for is the organisation of the content in the picture what makes it hold together what doesn't does having something sticking out or drawing the eye help or detract. It can be either.

The reason for this sort of exercise is to be able to start to see the way the lens will see before you put the camera to your eye. Beyond that is what masters call pre-visualising which is being able to envisage the completed picture through to print before you press the shutter.

I really like restricting myself in this way and I am sure it improves my photography.
I have to some extent done that with the Nikon. Although elastic bands help the 18 - 270 mm lens has a habit of changing focal length by itself however it has a lock at 18 mm. Why it couldn't have had notches at say 70 mm as well I don't know but as a result I tend to lock it at 18 mm and take 90% of the images at that length.

But I think you have a good point and maybe I should start using the 28 mm lens on my Pentax it would also mean more practice at manual settings.
The exercise is standard art college photography 1. Keep it simple don't use it to practice manual settings, the goal is to learn to see with your lens. the 28mm on an APSc sounds fine alternatively get your Nikon zoom set it to 30mm and put a bit of tape to stop the zoom mechanism shifting. Remember that the pictures I put up from the Hawarden walk were all taken with a 20mm lens (40mm FF equiv)
Oh what a tangled web we weave. I take Digital Photo every month. It was something my wife thought I would enjoy. Each month they seem to come up with another method of increasing the dynamic range. There are it seems many ways of getting the same result. Be it the free Photomatix Essentials or using layers and masks they show many ways of combining layers using masks to produce a image which encompasses a wider than jpeg image can straight out of the camera can equal.

As to if the process really improves the image is something else. Blending Photomatrix and standard images can produce some really good effects. Blending the sky of a tone mapped image with a foreground of a standard image can produce some very good combinations.

Where the point is between art and photography is rather vague.
---
Permissions in this forum:
You
cannot
reply to topics in this forum