Did anyone get better results? OK I now see some faults like tripod was too low but getting window and interior was a changeling. I set camera to bracket but some odd results f4 1/60 ISO 200 and f3.5 ISO 400 with 1/8 and 1/30 second no idea why ISO and f stop changed with the +2 image?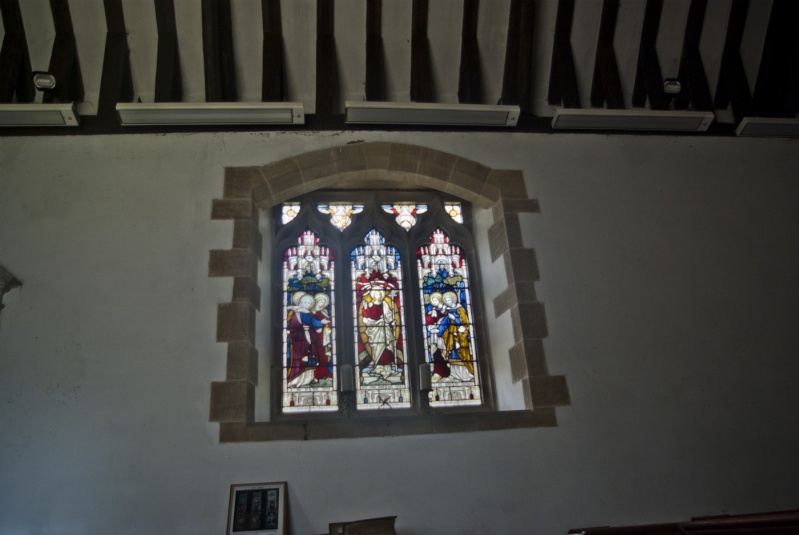 Second one only used 2 of the images -2 and +2 again f4, ISO 200 at 1/60 and f3.5, ISO 400 at 1/8 and combined using layers and masks.
Still have another 2 to work on so any pointers welcome.
Hi Eric, you need to be higher up or further away with a long lens with a sturdy tripod.
I think you need to take 3 or 4 of the same picture with under and over exposures.
Maybe practice on a church with lower windows first.
Great windows though all the same.
Hi with architectural pictures like these you need more time to set them up. Avoid strange angles and perspective distortions. Heavy tripod and plenty of time to do them. Also if possible have the camera set up for complete manual use with either a remote release or timer delay as exposures are likely to be quite long - your pictures are not sharp I would guess because of camera shake, did you use mirror lock up?. I tend to to do a two exposure bracket one for the window and one for the interior and then blend.
Over two years ago, now I have a lazy approach, Photomatrix has removed much of the skill required, it does it all for you. I have always been a little uncertain about using tripods in a Church, but now the Rev Dr Richard is in the club, I am not so worried about going the Northop where there are some really good windows. I must return and try it all again.

The bridge of sighs Chester looking towards Wales with Welsh hills in the back ground is my biggest failure, tried many times, never got a result I was happy with.
---
Permissions in this forum:
You
cannot
reply to topics in this forum