Which is best?
Looks as though most of the interest is in the sky. At the moment neither of these crops are doing anything for me. If you have more sky why not try the image at least 80% sky and bring out the textures in the clouds.
Another on my to do list.

Another attempt.
Hi Eric, I think that you need to ask the question what am I trying to show with this picture. What sort of mood am I trying to convey. It looks as though you are after a rather sombre perhaps almost serious feeling to this image. This sort of letter box approach does not work for me. The tonal palette is limited and I think it needs more space. Why not post the whole image?

I was ascending stag lane known local as Jacky Snails lane rather slowly as a bit steep for my energy on a bike and stopped for a breather.
Looking back I could see the whole of the Wirral and the industry along the banks of the dee so took a series of photos which were latter stitched together.
However the interesting part is really a thin strip which is at that distance rather blue and minor as one looks at the photo.
As an AV one can scan across the scene but as a still although it shows the information it does not seem to work in conveying the busy thin strip of industrial activity.
The picture shows the line of popular trees used by bees nursery to protect it's fields and the iconic JS&S offices building, but the buildings and trees are hard to pick out with the 18mm lens used and likely I should have just deleted.
But childhood memory is all in that scene unfortunately not longer is it possible to capture the red sky's as the ovens were pushed or the furnaces tapped, but it still brings back those memories.
Wish I still could take pictures of the brick works with steam wagons "Sentinel's" which carried the special fire bricks to the steelworks.
basically I don't think there is  enough in the image for it to be a keeper. However here is a quick play with the jpg in the forum. Had you added a vignette or does your lens vignette heavily. Whichever I have taken it off! Yuck this still looks muddy I will have another try!
Next version. Corrected the colour balance!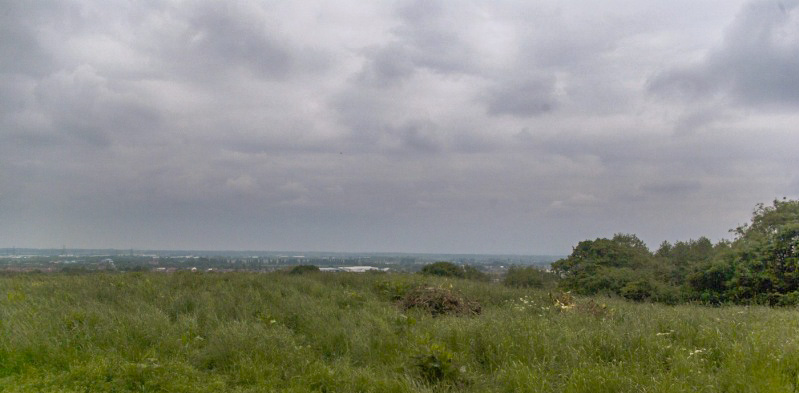 I did not add vignette I think you are right I should abandon that image and see up with tripod and telephoto picking out one area. Likely the red brick office building with clock.

Thank you interesting to see what can be done.
Maybe this is a view for the memory rather than trying to make a picture from it!
---
Permissions in this forum:
You
cannot
reply to topics in this forum