September 24 in 2012 in John Widdal's lecture he referred to Photo Stitching Software called Hugin details and links given on Mold Camera Club Facebook page. Lecture called "The Science and Art of Panoramic Photography".
At that time I used CS4 and as he referred to in the lecture there is a problem when using two photos in that it creates a funnel like effect stretching one of the images which then needs correcting with the warp tool.
I tried using Hugin on my large laptop and it seemed to work well however no real clue as what to do with many of the options offered. When my large laptop power supply failed I went to using my smaller slower laptop same operating system and tried to install Hugin "HuginSetup_2013.0.0_64bit_Windows.exe" which was the default on the website. However this would not run so after a bit of searching I found "HuginSetup_2013.0.0_32bit_Windows.exe" which did seem to run also smaller at 21.3 MB instead of 33 MB.
However when I came to use it all seems great then it stalled even leaving over night it did not complete. Since I can't run large laptop I can't check version was loaded that worked. It would seem from 2012 when lecture was given there have been two major up-dates. With most software the "about" gives the version, but with Hugin I could not find version listed only know as still have the down-loaded installation file.
So question is how have others found this software? Any tips? With big computer all I did was 1. Load Images. 2. Click the Align button. 3. Select crop tab and adjust crop. 4. Click the create panorama button. 5. Set to Jpeg. 6. Click save. (With big laptop always seemed to have to do this twice.)
Often I would then open in Photoshop to adjust crop to straighten and other minor work but in the main it was ready for use straight out of Hugin. While writing this I ran Hugin again to note down point it got stuck on and it seems to have worked OK. However opening folder there was a pto file and mk file but no Jpeg file.
Then it decided to work. It was interesting watching in Bridge. As I watched tiff files started to arrive all sorts of shapes clearly part of the combining process. With my faster computer these had arrived and gone in a flash but with this slow old thing they stayed for quite a time.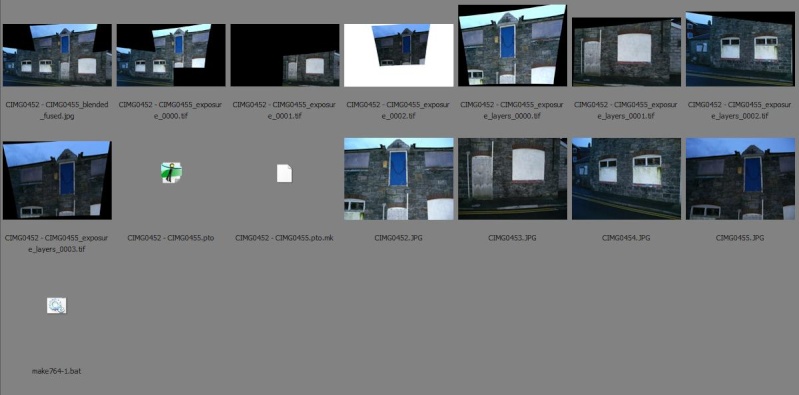 Finally I got my combined file. Once it worked I wondered if worth posting but then thought others could have the same problems. As to why it at first did not work and then did not a clue. All thoughts welcome.
Final Image taken with compact on way to Club last week.
I have Hugin on my 64 bit laptop which does display the version as 2011.4.0.cf9be9344356. I found that the program works well using files from my Nikon D40. Using files from the D3200 was more problematic because of the huge file sizes involved. The stitching would hang but get further on each attempt until complete. The most files used was a shot of Barmouth railway viaduct consisting of 7 images.

Harvey Mutch




Posts

: 81


Join date

: 2012-10-03




Harvey Mutch




Posts

: 81


Join date

: 2012-10-03



This effort consisted of 3 images


Harvey Mutch




Posts

: 81


Join date

: 2012-10-03



---
Permissions in this forum:
You
cannot
reply to topics in this forum