Wow Eric, that is horrid.
Looking forward to seeing the reaction tonight to this!
Did you use photoshop??!!



ChrisMcLean




Posts

: 33


Join date

: 2013-09-18



ChrisMcLean wrote:Did you use photoshop??!!


I will go though the whole process. At first I was going to put my whole head under the foot so set the camera on timed shutter release and took a self prostrate of my face. Next outside removed tripod hot shoe and selected some where unlikely to damage camera the concrete slab seemed ideal did not really want to just place on grass. Wanted space to put head into so selected a wind fall to support my foot. Again timed shutter release as with first picture took a few versions toes and heal then took card to PC.
All taken in RAW so selected transferred to PC using Bridge then all and opened together so I can compare colours and adjust as required to match skin tones. In fact did not have to adjust colour balance at all. Did all standard adjustments fill light, exposure, crop, clarity and exposure then clicked save image bottom left of Camera Raw 6.5 and then cancel so alterations made in RAW not saved they are only on the Jpeg made so I can compare in Bridge before and after and re-do if not good enough.
I looked at pictures in Bridge again and selected two using Ctrl and clicking on picture then went to Tools / Photoshop / Load into Photoshop Layers and started main Photoshop program. I reduced the opacity of top layer to 50% so I could see what I was doing. Selected edit / transform / scale then adjusted head to same size as apple then brought opacity back to 100% clicked on "add vector mask" then brush tool then used [ and ] to adjust size of brush and masked out all but head.
I called it under foot but did not really like it so then went back and removed all but eyes. Once saved as Jpeg went to FastStone Photo Resizer 3.1 to reduce size then uploaded. I repeated to make sure I did not miss anything so second one I left in the nose so here is the one I made while writing this report.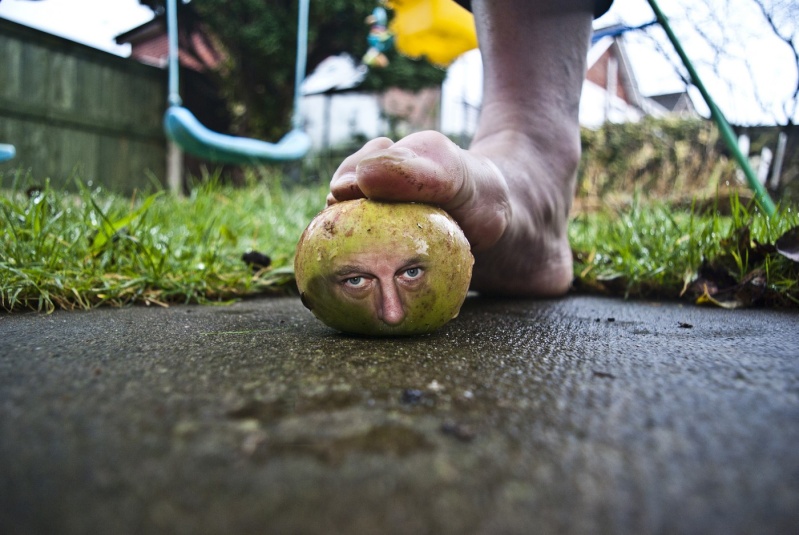 Does that answer the question? All best Eric
yeah, thanks for going through and explaining the process, As i have very little photoshop skill this helps me understand it a bit more! (as I said on Monday.. Something I need to work on) Thanks!.

Chris


ChrisMcLean




Posts

: 33


Join date

: 2013-09-18



---
Permissions in this forum:
You
cannot
reply to topics in this forum