Hi guys, I'm using pictures to exe free trial at the minute, inspired by Andy's demo but I'm having problems remembering how to get all relevant pictures aligned.  When Andy did it, he was lining up a wall from one photo to a wall on the other photo so the transition between slides was smoother.
Could anyone tell me please how do you do this on P2e, it's version 7

Gill Henry




Posts

: 59


Join date

: 2012-11-18



Click on Objects and Animation all the special bits are done in that. It is very similar to using Flash the bit which I found hard in getting picture order correct. If you have original picture selected the extras go with it however if you deselect they are separate. Also you need add keyframes to say do nothing so if you want a picture to fade into next first set Opacity to zero then click the time line and just add a keyframe then click further up and add another key frame and this one move the opacity to 100.
I was lucky I was taught how to use flash and controls are very similar.
Make sure you have the image you want selected on the time line.
Click on Objects and Animation
Click on handles and size image
Click on grey outer bit to de-select picture then on the picture icon to select another picture.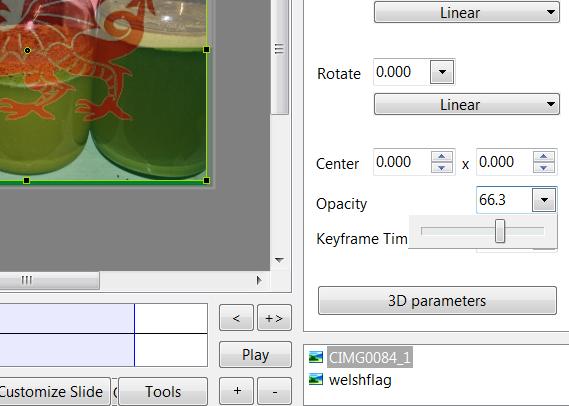 Then with that picture selected move opacity to zero.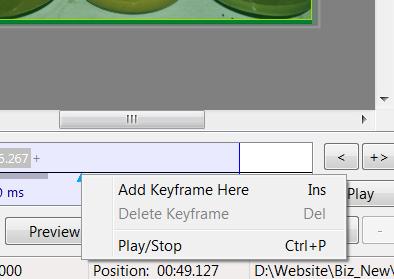 Add a key frame where you want new picture to start fading in.
Then add another key frame where you want it to be fully shown

Now bring the opacity back to 100% on last key frame. It is all down to moving these key frames that gets the panoramas scrolled thought and add writing and fading in and out. Good luck. You know where I live I will demonstrate if you want.
Last edited by Eric M Palmer on Sun Nov 17, 2013 12:15 am; edited 1 time in total (Reason for editing : Adding pictures showing how it is done.)
Maybe I should make an AV on how to make an AV?
Hi Eric, thank you for your quick response. I'm trying to follow the instructions above but am getting stuck when adding another picture. It brings up my folders from my computer, how can I select the pictures that are already on exe to follow on?

Gill Henry




Posts

: 59


Join date

: 2012-11-18



Ok Eric, thanks for that as I now know how to fade one pic out and merge with another however I think I may have been misunderstood.
What I need is to line up a series of photo's, they all need to be positioned in the same place, much like when Andy lined up one wall in one photo with the wall in his following photo, the positions were the same, does that make sense?

Gill Henry




Posts

: 59


Join date

: 2012-11-18



Gill it is some time since I used P2E I think that you go to the objects and animation. Then resize so as to make the one you want to line up big enough that you can drag it so that the bits you want to line up are in the right place.

The alternative is to use your photo editing software to crop and size the image to place the component in the right place. You could probably use a grid to show very precisely where it is and do a comparison with the one that it is cross fade with.

Sorry not very clear I suspect it is easier to demonstrate than write about!
Thanks Dave, I kind of get the jist of what you are advising and will give it a go!
Thanks guys for the helpful tips...

Gill Henry




Posts

: 59


Join date

: 2012-11-18



I think I remember Andy using a grid to line them up with

Pammy Sheldon




Posts

: 520


Join date

: 2011-02-05



That will save me an absolute ruck of time if I could find it, still working my way around it

Gill Henry




Posts

: 59


Join date

: 2012-11-18



---
Permissions in this forum:
You
cannot
reply to topics in this forum